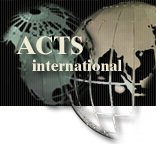 Health Care
Corneal Transplant
Diabetic Camp
Drug Shipments
Faculty-Student Exchange

In the country of Georgia, formerly part of the Soviet Union, more than 4,000 children and many pregnant women in the city of Kutaisi (pronounced koo-TIE-see) have been diagnosed with advance thyroid disease.
This disease, which is most noted by the presence of goiter, can cause mental retardation and immune and metabolic disorders. A pinch of iodized salt each day - something in our kitchen cabinets that we take for granted - could prevent health problems that threaten the children who are the future of this new democracy.

In 2000 Georgian Senator Dodo Shelia, M.D., of our sister city conducted a study of 42 Kutaisi schools. She documented that 54 percent of the children had advanced thyroid disease, and all were at risk of developing iodine deficiency disease.
She and the Georgian Medical Society asked for help, and A Call To Serve and a number of Columbians responded by forming the Columbia Cares for Kutaisi committee in 2001. During that first campaign, 120,000 individual boxes of iodized salt more....